Fire Control Equipments
FIRE CONTROL PANEL
Fire Pump Control Panel consists of electrical components like Circuit Breaker, Switches, Relays & other components dedicated to the operation of pumps. The components installed in the panel receives signal from alarm devices like Pressure Switch and activates motor control devices to provide power to fire pumps and monitor its performance.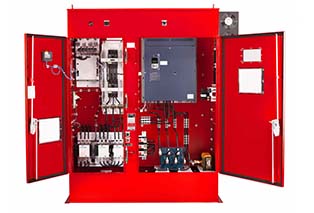 PRESSURE SWITCH
The function of the Pressure Switch is to energize or de-energize the electrical circuits and check whether the pressure is normal or abnormal. When the pressure drops down the prescribed level, it triggers an electrical circuit. All the pumps require 1 Pressure Switch each. Major Brands : Indfoss
HOSE REEL DRUM
Hose Reel Drum is made out of MS and it consists of a Hose Reel of 19mm dia of required length, is kept wound. It has a swinging type motion which allows 180 degree swing and is installed along with the landing hydrants.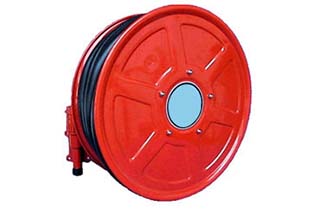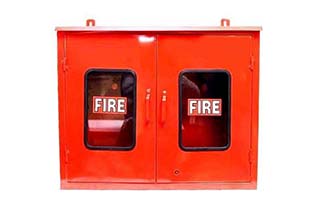 HOSE CABINET
Hose cabinet is made of MS sheet having glass fronted twin doors with locking arrangement and having a inbuilt key box. The cabinet is suitable to hold 2 no's of hoses and a Branch Pipe and is painted in red colour outside and white inside.
FIRE BRIGADE INLET
Fire Brigade Inlet connections consist of 2, 3 or 4 no's of built in NRV's fixed on a manifold and is connected to the underground hydrant mains as well as to the sump. This is housed in MS cabinet and painted in Red colour.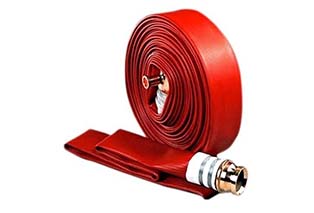 RPL HOSE
RPL Hose is used for conveyance of water from hydrant valve to the fire. It comes in standard size of 7.5m & 15m lengths, also available in 22.5 & 30m. Major Brands: CRC, New age, Ever safe
PIPES & SUPER JET WATER MONITOR